President's Message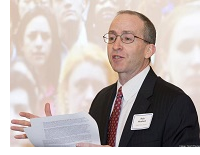 A common question from friends and colleagues when discussing the work of the Forum is whether I ever get frustrated by the slow pace of government in responding to the dozens of important policy insights, options, and recommendations we issue each year.  Continue reading…
---
Our Education Research Finishes the School Year Strong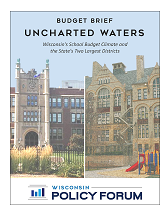 As K-12 schools, colleges, and universities finish one academic year and start budgeting for the upcoming one, the Wisconsin Policy Forum produced a series of insightful reports on education. Our annual look at the budgets of the Milwaukee Public Schools and Madison Metropolitan School District highlighted the cross-pressures for districts facing tight limits on their ongoing state and local revenues but large boosts from one-time federal pandemic aid. That report was supplemented by a brief providing the first look at how school districts across the state are spending their COVID-19 aid. We also examined how lagging state financial aid in Wisconsin has likely added to enrollment declines in higher education, racial disparities in access to college, and the state's ongoing workforce challenges.
Our researchers are sharing these findings in talks and meetings with stakeholders around the state. Senior education researcher Sara Shaw spoke to K-12 leaders in April at an event held by the Cooperative Educational Service Agency #11, a Forum member in northwestern Wisconsin. Research director Jason Stein spoke that same month about the Forum's financial aid research to members of the Wisconsin Association of Student Financial Aid Administrators in the Wisconsin Dells. In June, both Shaw and Stein spoke about the Madison school district's finances and related education issues to a group of community stakeholders organized by the Madison Public Schools Foundation.
If your employer or organization would like to host a talk by Forum researchers, reach out to our staff. In the meantime, look for upcoming education reports, including one on the use of the community schools model in the state, and another on how per-pupil K-12 spending in Wisconsin compares to the rest of the country. 
---
Our Popular DataTools Dive Even Deeper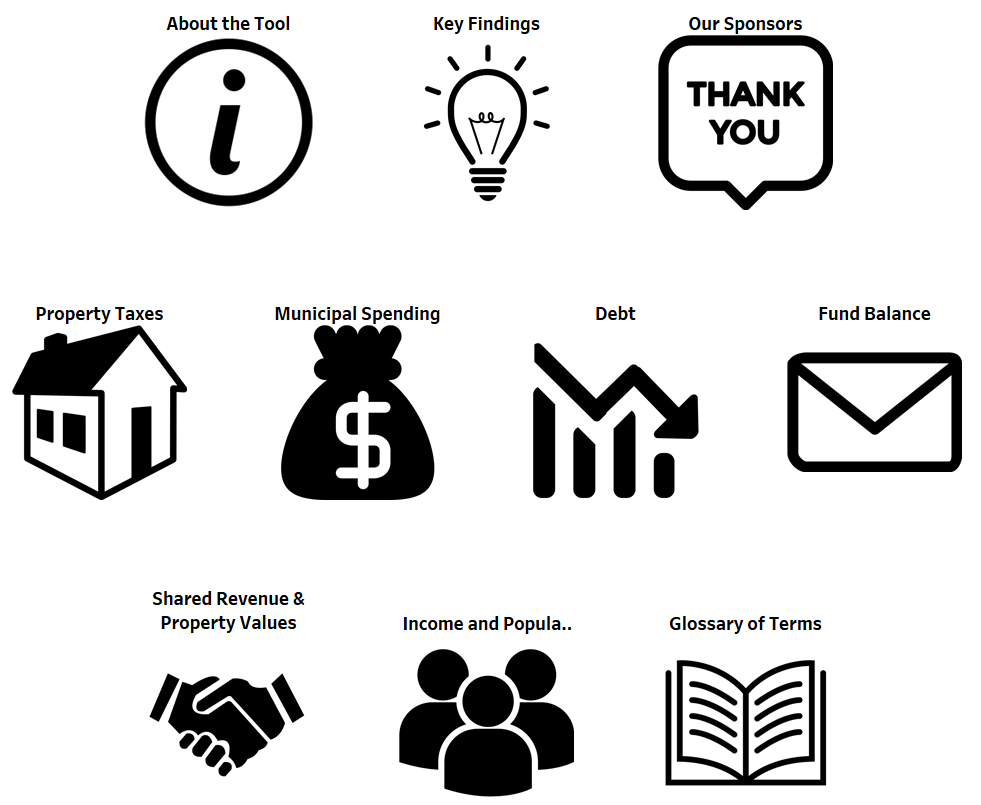 In past years, the Wisconsin Policy Forum and its predecessors produced a series of factbooks that, while popular, were time-consuming for researchers to compile and readers to use. Over the past four years, the Wisconsin Policy Forum has transformed these table-laden reports into a series of easy-to-use datatools that cover key aspects of our state's economy, local governments, and schools.
This summer and fall, we will update our growing portfolio of datatools, including the Municipal DataTool on city and village finances, School DataTool on local K-12 finances and student and staff demographics, and student outcomes, Property Values and Taxes, and our Innovation Datatool tracking the Milwaukee area's performance on metrics tied to innovation and economic growth. The tools allow you to easily compare police spending across different municipalities, test scores across schools, or venture capital investment across the Milwaukee area and peer metros nationally.
We continue to improve these tools in a variety of ways, including adding new indicators and using coding to automate the once-lengthy task of processing the raw data. In doing so, we're combining our longstanding mission of shining light on trends in local government and the economy with the latest in new technology. 
---
Can Downtowns Thrive in the New Normal?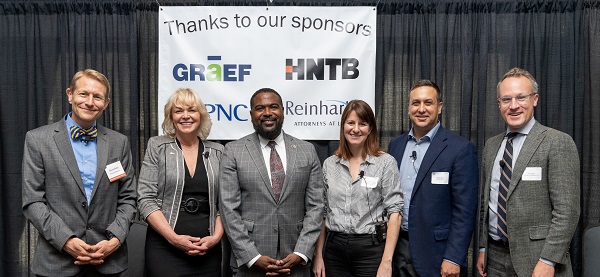 Our June 27 Viewpoint Luncheon — "Can Downtowns Thrive in the New Normal?" – attracted a crowd of nearly 200 to the Italian Community Center in Milwaukee. 
Our first guest, City of Milwaukee Department of City Development Commissioner Lafayette Crump, discussed efforts now underway to update Milwaukee's Downtown Area Plan. Crump said that "Milwaukee is at a critical crossroads" with once-in-a-generation levels of development currently happening in and around downtown. 
Our panel, moderated by research director Jason Stein, featured Jason Ilstrup, President, Downtown Madison, Inc.; Joshua Jeffers, Founder and CEO, J. Jeffers & Co.; Anne Neujahr Morrison, Shareholder, Urban Land Interests and New Year Investments; and Beth Weirick, CEO, Milwaukee Downtown.
Ilstrup and Weirick said Milwaukee and Madison's downtowns continue to face challenges brought about by the pandemic. But they said prospects are improving considerably as more workers return to the office and events and tourism show strong signs of rebounding.
Amid record inflation, rising interest rates, and labor force challenges, Jeffers says his development firm "seriously considered hitting pause on every development we have until 2023." While they ultimately opted to forge ahead this year, he says these factors are creating industry-wide challenges.
Neujahr Morrison said there are opportunities to fill in missing amenities and offerings in Wisconsin downtowns. In downtown Madison, she said offerings serving families and youth are a key element that's underrepresented.
---
Membership Spotlight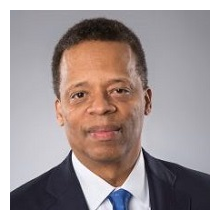 Founded in 1977, Community Care, Inc. currently provides a wide variety of long-term care and health services to more than 13,000 seniors and adults with disabilities across Wisconsin. Their care teams manage care and services to individuals in their homes and communities. They also operate a health plan, pharmacy, transportation services, and Adult Day Health centers which serve as both health clinics and adult day services. Utilizing a staff of almost 1,000, Community Care's mission is to provide innovative, cost-effective, and compassionate care.
"How has your membership in the Wisconsin Policy Forum been a resource for you and your organization?" 
We benefit from research on issues directly related to our work as well as issues that more generally concern the health of the communities in which we operate. The recent report "Health Care Grads Earning Higher Degrees As Worker Shortages Remain" was very insightful to organizations like ours that are struggling to fill current and future job openings. Recent reports analyzing pandemic aid, substance abuse, public health services in Milwaukee County, and public transit in Wisconsin are likewise illuminating. Of course, broader analysis of municipal and state budgets, examination of state/local relations, and education issues are critically helpful as we seek to improve the health and vitality of communities across our state. The Wisconsin Policy Forum and its predecessor entities have been invaluable resources for decades and we look forward to the Forum continuing to play this critical role for many years to come. We are thankful for the skill, dedication and commitment of the Forum's outstanding leadership and staff.
Contact Info: Kenneth Munson, Chief Executive Officer, kenneth.munson@communitycareinc.org.
Website: communitycareinc.org/
---
New Faces at the Forum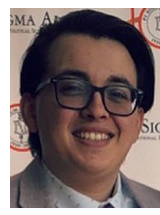 Isaiah Garcia-Morton is our 2022 summer graduate research intern. Having graduated from UW-Milwaukee in 2021 with a bachelor's degree in political science, Isaiah is currently pursuing a graduate degree in political science at Marquette University, where he also works as a research assistant. A Milwaukee native, his first day with the Forum was May 24 — since then he has assisted in preparing our next update to our Metro Milwaukee Innovation DataTool.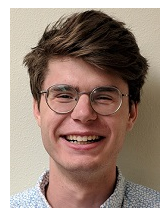 Noah Bartelt is our 2022 summer undergraduate research intern. Noah is currently pursuing a bachelor's degree in public policy, concentrating in computational policy, at Stanford University. He also has worked as a research assistant at the Stanford Institute for Economic Policy Research, and as a management intern for the city of Sheboygan – which is his hometown. Noah's first day with the Forum is July 1.
---
Upcoming Research
City of Milwaukee Fiscal Condition: This project supported by the Greater Milwaukee Committee aims to update our research on the city of Milwaukee's fiscal health and look at structural challenges such as the city's unfunded pension liabilities and limited revenue options. Our 2016 "Making Ends Meet" report found that the city's finances had improved since the depths of the Great Recession, but that fundamental changes were needed to ensure the city could make sustained investments in police and public safety as well as community development.
Substance Use Disorder: With deaths on the rise due to substance abuse, this report will examine the services available to help meet this challenge in Milwaukee County. The report – commissioned by Milwaukee County's Behavioral Health Division – will consider the various services and providers present in the county along with potential options to use opioid legal settlement dollars to fill service gaps and improve service coordination between private and county-funded providers. 
Advanced Placement Classes: This brief builds on our past work looking at racial disparities in tests aimed at assessing students' college readiness. The report will examine data on Advanced Placement (AP) classes and potential disparities among which students in these classes actually take the AP tests – a critical metric since students must take the test to earn college credit through the AP course.
Milwaukee Metropolitan Sewerage District (MMSD): More than two decades after MMSD's first contract to outsource its operations, the agency has asked us to assess the pros and cons of this approach and explore whether any changes should be considered. While our emphasis is on financial considerations, we will also explore to a limited extent how the district's operational objectives in areas like environmental protection and flood control have been impacted by its current framework and what the future may hold in that regard as well. 
---
Upcoming Events
Forum Friday: Pandemic Recovery in Wisconsin's Arts and Cultural Sector
Zoom Webinar
Friday, July 29, 2022 | 12:30 – 1:30 p.m.
Join us Friday, July 29, for the latest installment of our Forum Friday virtual event series. It will focus on how Wisconsin's arts and cultural sectors are faring amid the COVID-19 pandemic. We'll review recent Forum research on employment in the arts and culture sectors and the threats they have faced. Our guests will be George Tzougros, Wisconsin Arts Board Executive Director; David Lee, Imagine MKE CEO; and Patrick Rath, president and CEO of the United Performing Arts Fund.
Registration is free, but required for this event.
---
Working Together for a Better Wisconsin
For more than a century, the Forum and its predecessor organizations have produced impartial research and analysis that has generated greater understanding of complex policy issues and improved the quality of public policy decision-making in Wisconsin. In addition to maintaining your ongoing membership, we ask you to consider making a donation to further facilitate our ambitious research and program agenda. Please contact Katie Hofman, our Fund Development and Membership Director, at khofman@wispolicyforum.org or by phone at (414) 435-1130 to discuss how  your charitable gift can advance our shared goal of producing objective, independent research to address state and local issues throughout Wisconsin.
---
Thank You!
In these turbulent times, we are especially grateful for the support of our members and sponsors. Thank you for reading our research, attending or tuning in for our events, participating in our committee meetings, and maintaining your membership with us. 
We are supported by hundreds of corporations, nonprofits, local governments, school districts, and individuals from across the state of Wisconsin. The following members provide particularly generous support that ensures Wisconsin will continue to benefit from having one of the nation's most successful nonpartisan, independent public policy research organizations.
Pillars of Public Policy

Sentinels of Civil Conduct