President's message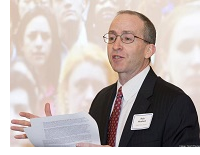 One of the most disturbing elements of our nation's increasingly polarized politics is the labeling of compromise as a characteristic of weakness, as opposed to one of effective government in reconciling views of a divided electorate. That's why it was such a pleasant and reassuring surprise when state and local Republicans and Democrats worked out a deal in Madison that averted a fiscal meltdown for Milwaukee's two largest local governments and showed that the art of compromise hasn't been abandoned.
Continue reading…
---
Forum cites prosecutor, public defender pay issues; salary increases given initial approval
In April, Forum research highlighted how lagging pay for Wisconsin's assistant district attorneys and public defenders is a growing problem, particularly as criminal case backlogs rose during the pandemic.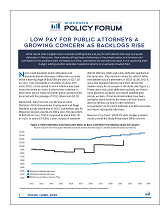 Our report on this topic noted how pay for these vital roles has sharply lagged inflation during the last decade and the salaries for many other jobs for attorneys, even as turnover and workloads for these positions have increased. The report received widespread media coverage and was cited by members of the state's criminal justice community. 
Weeks later, the Wisconsin Legislature's budget-writing committee adopted a legislative motion that would increase base pay for assistant district attorneys and public defenders from $27.24 an hour to $36 an hour. 
This legislation still awaits passage in the full Legislature and the signature of Gov. Tony Evers. Still, its unanimous passage in the budget committee signals the breadth of support across party lines for meaningful pay increases for these public servants. And it shows how our timely report topics are carefully chosen to ensure maximum relevance and utility amid ongoing state budget debates and discussions. 
---
Forum research helps Wisconsin media explain complex budget issues fairly and accurately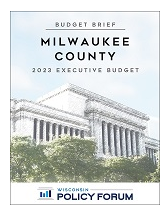 In recent weeks, Wisconsin media outlets have relied more than ever on Forum research and experts to help readers, listeners, and viewers understand complex issues related to state finances — as well as the budget crises facing the city of Milwaukee and Milwaukee County.
The increasing frequency with which our research and expertise on these topics have been highlighted came as state lawmakers ratcheted up debate over the next state budget. The Forum's work on Milwaukee city and county finances has been particularly indispensable to southeast Wisconsin media to explain the severity of reductions to parks, transit, and public safety services that could materialize in 2025 and beyond if local budget challenges are not addressed.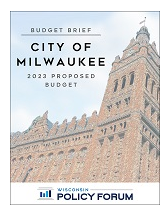 Our research has helped to illustrate how the city of Milwaukee stands apart from other cities nationally in the lack of diversity in its revenue mix — a critical point as state lawmakers recently voted to provide the city and county with new sales taxing authority.
Our work also has been critical in helping media explain state policymakers' debate over shared revenue, the state's main form of funding aid for cities, villages, towns, and counties. Now and going forward, Wisconsin media know they can count on Forum research and staff for thoughtful, nonpartisan research and insights on these issues. 
---
Forum events explore outdoor funding, child care economics
The second quarter brought a pair of exciting Forum events: the latest installments of our Viewpoint Luncheon and Forum Friday series.

Our latest Viewpoint Luncheon, "Paying for State and Local Conservation and Parks," was held April 27 at Potawatomi Casino Hotel in Milwaukee. Our guest panel featured Preston Cole, director of the Milwaukee Department of Administration and former secretary of the Wisconsin Department of Natural Resources; Milwaukee County Executive David Crowley; Beaver Dam Mayor Rebecca Glewen; and current Wisconsin DNR Secretary Adam Payne.
On June 9, we held our latest Forum Friday, our popular virtual policy discussion series. The focus was on a topic that also was the subject of a recent Forum report: unpacking the economics of early childhood education and care in Wisconsin. Our guests were Emilie Amundson, secretary of the Wisconsin Department of Children and Families; Vincent Lyles, executive director of Milwaukee Succeeds; and Sachin Shivaram, the CEO of Wisconsin Aluminum Foundry. 
Forum events are a critical way in which we facilitate thoughtful, nonpartisan policy discussions featuring a range of views, and create opportunities for Forum supporters to gather, network, and learn more about these topics. Stay tuned for more information soon on future Forum events!
---
Farewell and best wishes to two valued Forum staffers 

---
Membership spotlight