President's Message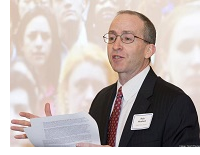 If you're wonky enough to be talking about the state budget around the office water cooler or among friends and relatives (yes, I admit you would have to be pretty wonky to do that!), then I would bet one of your main points of discussion is about how much and whose taxes to cut. Or, if you have school-age children or grandchildren, you might also be touching upon Gov. Tony Evers' proposal to dramatically increase spending on K-12 schools.
Continue reading…
---
Forum Cohosts Madison Mayoral Debate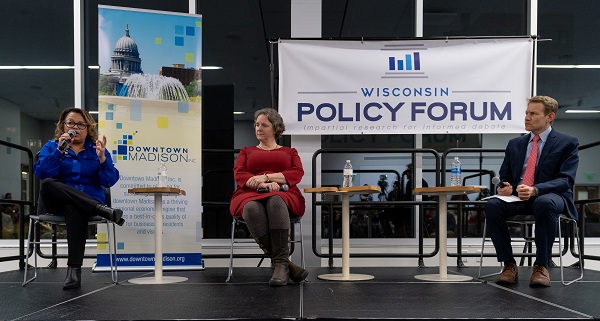 On Feb. 27, the Forum was proud to cohost a Madison mayoral candidate debate with Mayor Satya Rhodes Conway and her challenger in the April 4 general election, former deputy mayor and former Madison school board president Gloria Reyes.
This was the first public meeting of the two candidates after the primary election that advanced Reyes and Rhodes-Conway to the general election. In what the Wisconsin State Journal described in its coverage as a "lively but cordial" debate, the candidates aired their differences on issues including housing, transit services, public safety, city taxes and debt, and Madison's unhoused population.
The event was cohosted with Downtown Madison, Inc., and the Hoan Group, and held at Madison Public Library Central Library. It marked the first time the Forum convened a debate between candidates for office in Madison. We expect it will be the first of more to come in future election cycles, so stay tuned!
---
Forum Research Helping to Guide Opioid Settlement Spending
When Milwaukee County officials approached us last year to seek our guidance on potential uses of their opioid settlement dollars, we were both encouraged and flattered. With more than $70 million on the way from national opioid lawsuit settlements, we applauded county leaders for seeking independent analysis of how the dollars might best be used to help individuals with substance use disorders (SUDs). At the same time, we were flattered that they chose us for that assignment.
Our report, Road to Recovery, was released last November, and we are now further encouraged to see a report from the county's Department of Health and Human Services that outlines for the Board of Supervisors how proposed uses of the first $11.5 million in opioid settlement dollars align with our research. The report maps the proposed investments against the five areas that our report suggested for prioritization: residential treatment and housing, addressing issues caused by federal funding restrictions, investing in BHS' role as coordinator and gatekeeper, addressing other pressing service gaps, and bolstering prevention and harm reduction.
The report finds that projects totaling about $8 million of the $11.5 million are consistent with our recommendations. And while we're not keeping score, it's certainly gratifying to know that our advice is a key measuring stick for the county as it seeks to maximize this unprecedented opportunity to invest in SUD services. 
---
Member Survey Offers Helpful Feedback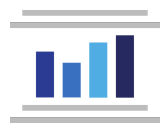 We also received great feedback on additional ways to communicate our research. Check out our new video series, "Inside Scoop" where researchers share their thoughts on the latest WPF research.
Thanks to all of our members who shared their thoughts with us this year!
---
Membership Spotlight