President's message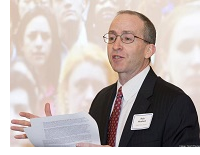 If our overheated election cycles were not a sufficient reminder of the intensity of our political divisions, then the almost daily vitriolic disputes over issues ranging from mask-wearing to K-12 curricula to the conduct of elections have hammered the point home: Wisconsin is an exceedingly divided state and our political and ideological differences appear to be growing, rather than receding. Continue reading…
---
Parks Report Drawing Strong Interest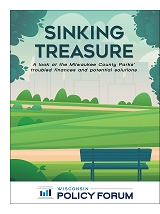 Our October report on the future of the Milwaukee County Parks – Sinking Treasure – reinforced the severity of the park system's financial challenges. In fact, we noted that while our re-assessment "is strikingly similar to the gloomy assessments we conducted in 2002, 2008, and 2013," each "has grown progressively worse."
Two other important report elements are now generating community-wide discussion. The first is our analysis of the parks' changing revenue mix, which features a heavy reliance on earned revenues from admission fees and rentals that may be threatening the system's traditional emphasis on public access. We also provided several tangible policy options to address both financial and access issues that we gleaned from peer local park systems.
We presented our report to the Milwaukee County Board's Parks, Energy, and Environment Committee and the Milwaukee Metropolitan Sewerage District Commission soon after its release. Committee members – as well as the county executive and parks director as discussed at our recent Forum Friday – already are gearing up to gather public input and consider the options we presented. The report also has attracted comprehensive media coverage in the Milwaukee Journal Sentinel and from the Milwaukee Neighborhood News Service and WUWM's Lake Effect, ensuring that many citizens already have greater knowledge of the park system's challenges and potential paths forward. 
---
Forum Research Continues to Impact Police Reform in Milwaukee 
An ongoing debate in Wisconsin communities about the role of local policing predated last year's events but gained heightened salience after the murder of George Floyd in May 2020. Our research agenda has reflected that, with reports on municipal police spending throughout the state (June 2020, August 2021), as well as blurbs in our annual Madison and Milwaukee budget briefs.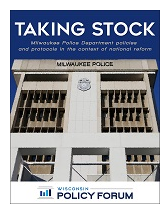 Yet none have had more impact at the local level than Taking Stock, commissioned by Mayor Tom Barrett to take a deep look at police reform efforts in Milwaukee. In the report, we noted that whistleblower protections "might benefit from further scrutiny," as they "[fell] short of those in peer cities." We also cited no-knock search warrants as an area in which Milwaukee's policy was not in line with certain peer cities.
As reported by the Milwaukee Journal Sentinel, in a November session, members of the Milwaukee's Fire and Police Commission (FPC) formally banned no-knock search warrants and adopted a new Standard Operating Procedure on whistleblower protections for officers who report the misconduct of fellow officers.
We recently discussed Taking Stock with an FPC Committee and we anticipate further discussion and possibly action on additional findings in 2022.
---
Forum Friday: Creating a Sustainable Future for Local Parks
Our latest Forum Friday virtual event in December focused on the outlook for the gems that enhance the livability of Wisconsin's communities: our local parks. Some communities are encountering hurdles relating to the fiscal sustainability of their park systems, even as opportunities emerge amid the increased usage seen during the COVID-19 pandemic.
Our Forum Friday guests were Milwaukee County Executive David Crowley, City of Madison Parks Superintendent Eric Knepp, Milwaukee County Parks Director Guy Smith, and Milwaukee Parks Foundation Executive Director Rebecca Stoner.
Our discussion looked at some of the innovative ways Madison is providing new parks and recreation offerings to its residents. We also discussed the daunting challenges for Milwaukee County's nationally renowned park system, which is challenged by growing constraints on property tax resources. We learned that potential new partnerships – some of which were discussed in our report – may point the way forward.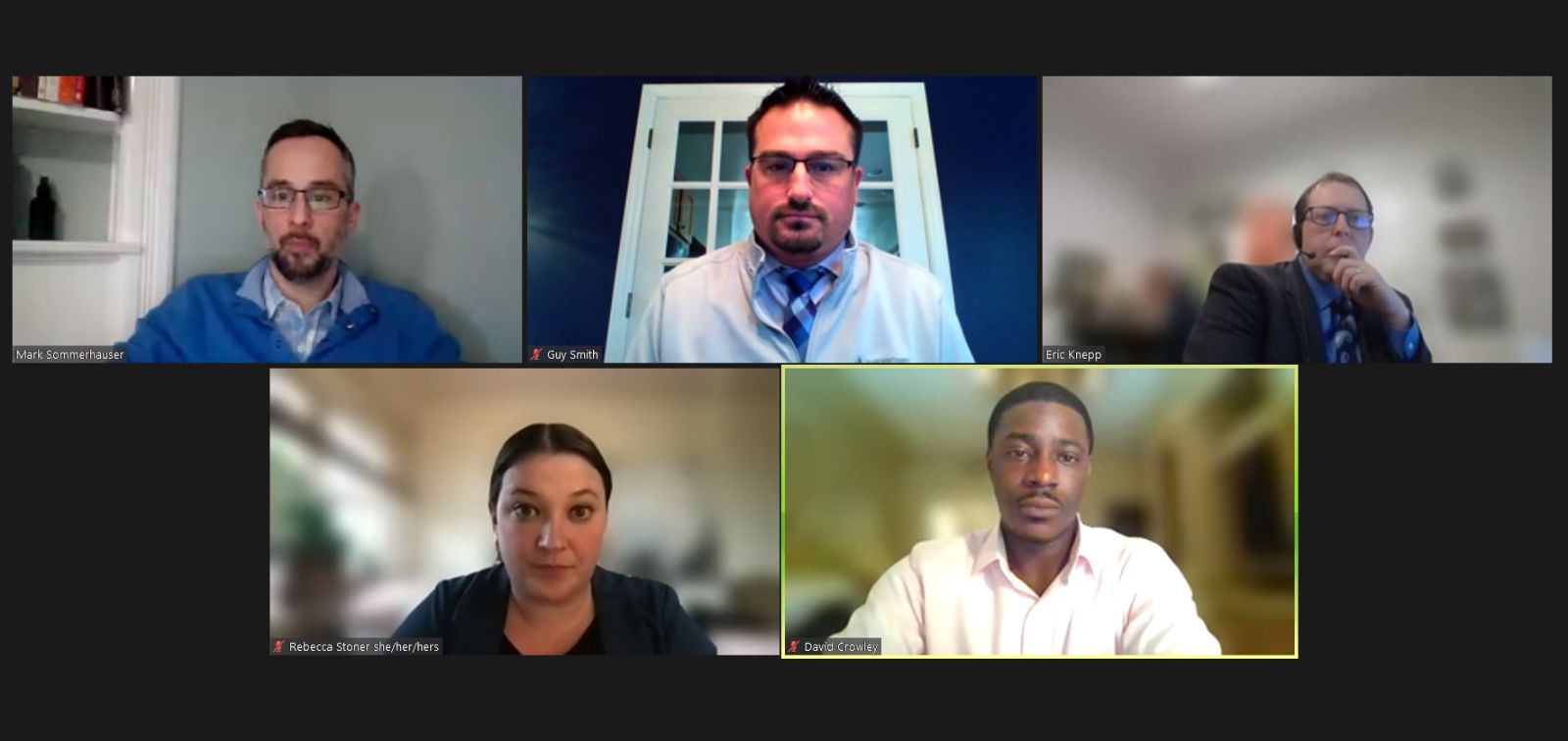 Many thanks again to our series sponsors who support our virtual Forum Friday discussions.
---
Pandemic Spurs Changes to our Annual Salute to Local Government, but the Tradition Continues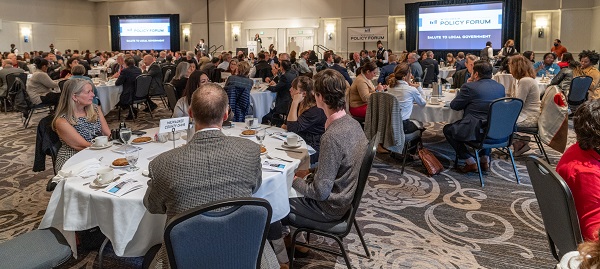 We are grateful to all who attended our 29th Annual Salute to Local Government awards on Nov. 17 in Milwaukee.
The ever-changing circumstances of the COVID-19 pandemic required that we and our guests remain flexible in responding to current conditions. Ultimately this year's Salute was held in a hybrid model with in-person attendance limited to about 240 guests and a virtual livestream option. Our awards slate also featured a special "Pandemic Hero" award.
Despite these changes, this year's Salute upheld a tradition of recognizing the positive impact of public sector excellence for communities throughout Wisconsin. We also honored individuals in Wisconsin's public sector for excellence and lifetime achievement.
Dustin Godsey, chief marketing officer for the Milwaukee Bucks and Fiserv Forum, provided keynote remarks on how the Bucks' partnerships with state and local government contributed to the team's historic 2021 NBA title.
Congrats to all of this year's winners — click here for a complete list and to watch video vignettes recognizing each of them!
We Salute Our Sponsors!

Media Sponsors
The Barry & Mary McNulty Family Charitable Fund
---
Membership Spotlight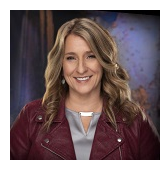 The MKE Tech Hub Coalition is a non-profit organization working to inclusively double tech talent in the Milwaukee region.  Formed in late 2019, the Coalition now has over 100 members and serves as a unifying voice for Milwaukee's tech community, working with others to grow a vibrant, inclusive ecosystem where tech and innovation create enduring regional prosperity and life-changing jobs. Laura Schmidt, chief talent development officer, has served on the Forum's Education and/or Economic Development Committees since 2016 and was elected to the Board of Directors in 2021. 
"How has your membership in the Wisconsin Policy Forum been a resource for you and your organization?" 
I was immediately drawn to the Wisconsin Policy Forum's mission to conduct impartial public policy research and analysis to drive informed debate and effective decision-making in the state of Wisconsin. I have learned something new from every report. When I served at the K-12 level, I found the research on career and technical education especially compelling. When I served at the collegiate level, I found the research on Metro Milwaukee's growing Hispanic workforce insightful. Specifically, it sparked more questions for me with regard to the employer's role in helping those from historically underrepresented groups succeed in STEM careers given the potential to be life-changing for so many. This report has considerably informed my work in my current role. I am happy to see collaboration on research projects between the Education and Economic Development committees such as the Innovation Data Tool and the analysis of our STEM talent pipeline. There are great insights that can be gleaned when you approach the findings through different lenses. As a director, I am continually inspired by the commitment of the Wisconsin Policy Forum team to stay true to their mission. I am thankful that we have this amazing asset in the State of Wisconsin to generate questions that can lead to meaningful change.

Contact Info: Lauras@mketech.org, phone 414-732-9668.
---
Upcoming research
How Kenosha Measures Up: This project will look at a range of economic and social indicators for Kenosha County and assess how well the community stacks up against its peers in the Midwest and around the country. The results will be presented in a data dashboard and will help local leaders and the project's sponsor, the Kenosha Area Business Alliance, as they plot a path toward a stronger economic future for all the area's residents.
Responding to Substance Abuse in Milwaukee County: Milwaukee County has suffered from a scourge of opiate overdose deaths but now has a new opportunity to address this and other substance use disorder (SUD) challenges from the grant dollars it expects to receive from a legal settlement with drug companies. This study sponsored by the county's Behavioral Health Division (BHD) will lay out the SUD service and provider landscape in the county, identify service gaps, and offer insights for BHD leaders and other stakeholders on how they might best leverage potential new funds to fight substance abuse in the community.
Imagine Milwaukee: The Forum has partnered with the arts group Imagine MKE to carry out a survey of artists and creatives in Milwaukee for the purpose of understanding their demographics, the types of creative work they do, how they support themselves and their creative pursuits, how the pandemic has impacted them, and how stakeholders can better support their work.
Fox Valley Fire and EMS: The Forum is examining how fire departments serving the Fox Valley can enhance existing fire and EMS service sharing efforts in areas such as training, special operations, and fire prevention. The study explores a range of service sharing options that might help the fire departments serving Appleton, Grand Chute, Kaukauna, Neenah-Menasha, and Oshkosh cope with rising costs, increased service demands, and limited local revenues.

---
Upcoming events
2022 Annual Meeting 
Thursday, February 3, 2022 | 5:00 – 7:00 p.m.
The Wisconsin Club City Club
Join the Wisconsin Policy Forum for our 2022 Annual Meeting! We're still finalizing the program but we can tell you it will involve a discussion of how Wisconsin is using its huge influx of federal relief and infrastructure funds. We're working to line up the participants in our panel discussion. Stay tuned for more info on this event soon! 
---
Working Together for a Better Wisconsin
For more than a century, the Forum and its predecessor organizations have produced impartial research and analysis that has generated greater understanding of complex policy issues and improved the quality of public policy decision-making in Wisconsin. In addition to maintaining your ongoing membership, we ask you to consider making a donation to further facilitate our ambitious research and program agenda. Please contact Katie Hofman, our Fund Development and Membership Director, at khofman@wispolicyforum.org or by phone at (414) 435-1130 to discuss how  your charitable gift can advance our shared goal of producing objective, independent research to address state and local issues throughout Wisconsin.
---
Thank you!
In these turbulent times, we are especially grateful for the support of our members and sponsors. Thank you for reading our research, tuning in for our virtual events, participating in our (virtual) committee meetings, and maintaining your membership with us. 
We are supported by hundreds of corporations, nonprofits, local governments, school districts, and individuals from across the state of Wisconsin. The following members provide particularly generous support that ensures Wisconsin will continue to benefit from having one of the nation's most successful nonpartisan, independent public policy research organizations.
Pillars of Public Policy

Sentinels of Civil Conduct